D.F.SARANTOPOULOS S.A was established in 1972 under the name Technical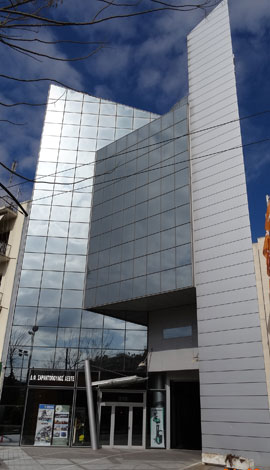 Service Bureau and was converted to a SOCIETE ANONYME in 1979.
The company represents and imports in Greece several Engineering Equipment categories and specializes in Material Handling Machinery, Warehouse Equipment, Construction and Earthmoving machines, Cranes, Street Sweepers, etc.
The company head office is located at their owned facilities in Athens, at 210 Lenorman Street. The facilities include the Administrative Department, the Showroom, the Sales-Marketing Department, Spare Parts Stores and the Main Repair and Service Workshop.

The company personnel also includes Scientific and Technical Personnel, including Diplome Mechanic Engineers, Finance and Economy graduated personnel, specialized to the Sales Promotion and also to the Technical after sales support.
The company's facilities is considered to be one of the most modern installations in Greece and has a covered area of 2500 km. It is equipped with all necessary functions to fulfill the most advanced sales and service support for the equipment imported and represented.
D.F.SARANTOPOULOS S.A have always offered the best and most professional solutions that correspond to customers needs, for the selection of the equipment and the subsequent technical service, support.
The Sales and the Technical Support includes a Dealers network located
in 17 Greek cities, all over the country.